Spray Dryer LPG-5

【Brief】:Spray Dryer LPG-5 for doing experiment and small batch production
【Series】:Dryer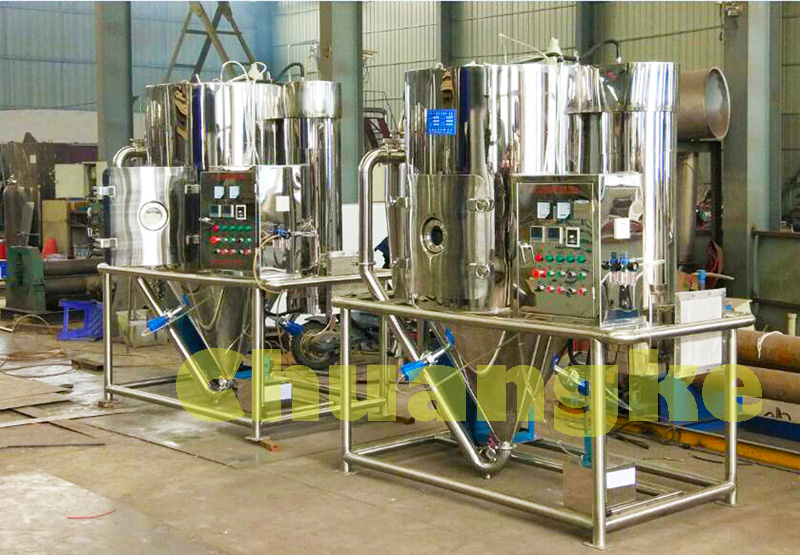 Application spray dryer
This spray drier is widely used in chemical industry,pharmaceutical industry,foodstuff industry and so on
spray dryer Description
LPG high-speed centrifugal Spray Dryer is applicable for the emulsion, suspension, paste and liquid solution. In polymers and resins, fuels, paints, ceramics, glass type, descaling agent, insecticide, carbohydrates, dairy products, detergents and surfactants, fertilizer,organic compounds and inorganic compounds of dry material ,the performance is particularly remarkable.This drier can be widely used into pharmaceutical, chemical , foodstuff and so on industries/field
Principle spray dryer
Air flow through the filter, heater and dryer into the top of the divider, a spiral-shaped hot air into the dryer uniform. Yecao feed from the filter is expected to pump at the top of the dryer centrifugal atomizer to spray liquid into very small droplets of mist, feed and hot air flow and contacts, the rapid evaporation of water, in a very A short period of time dry-finished and finished products from drying tower at the bottom and from the cyclone, exhaust emission from the fan
Features spray dryer
Dry faster, the general time is only 5-15 seconds, with instantaneous drying characteristics.
Materials take a very short period of time to complete the drying process, adapted to the dry thermosensitive materials, materials to maintain color, smell and taste.
FAQ
This spray drier is widely used in chemical industry,pharmaceutical industry,foodstuff industry and so on.
1.material name
2.content of solid; content of moisture(%)
3.processing capacity; evaporation capacity?(kgs/hour; litre/ hour)
4.Max.temperature the material can bear
5.heating source. Do you need Electric heating compensation to improve heating temperature?
Heating source
Spray dryer heating source are electricity, steam, natural gas, LPG gas, diesel, etc
Spray dryer TECHNICAL PARAMETERS spray dryer
Model
item Parameter

LPG

-5

LPG

-10

LPG

-15

LPG

-20

LPG

-25

LPG

-50

LPG

-100

LPG

-150

LPG

-200

LPG

-500

LPG

-800

LPG

-1000

LPG

-2000

LPG

-3000

LPG

-4500

LPG

-6500

Inlet temperature(°C)

140-350automaticallycontrolled

Outlet temperature(°C)

80-90

Water evaporation capacity(kg/h)

5

10

15

20

25

50

100

150

200

500

800

1000

200

3000

4500

6500

Diameter of atomizing tray (rpm)

50

80

80

120

150

180-210

Decided in accordance with the requirements of processs

Max Electric heating power(kw)

12

24

36

45

46

63

81

99

Dried powder restoring rate(%)

≥95

Length of covered area (m)

1.6

2.7

3

3.5

4

4.5

5.2

7

7.5

12.5

13.5

14.5

Decided in accordance the flow chart,

Width of covered area (m)

1.1

1.5

1.8

2

2.7

2.8

3.5

5.5

6

8

12

14

Condition of filed and requirements
Customize: 1. we can equipe this spray dryer with stainless steel ladder, which is easy for users to supervise from the top of ther dryer, check or replace the spray atomizer
2. we can customize the drying chamber with insulation jacket. For some special industries, client required drying temperature higher than 300℃, so an insulation jacket is important to prevent operator burned by the wall of drying chamber
3. we can install another draft fan at top of the drying chamber to cool the jacket, this is an option for client
4. if user prefer steam as heating source, we can make steam heat exchanger for this spray dryer
5. if user require, we can install PLC control panel for this spray dryer, which is more convenient to control
Related Products