Features
1. Small size, light weight, easy to move, the direction of the outlet can be adjusted, coarse, fine material automatically discharged, can be automated or manual work.
2. High precision screening, high efficiency, any powder, granules, mucus can be used.
3. Screen is not blocked, the powder is not flying, the smallest screening up to 500 mesh (28 microns) filter the most fine up to 5 microns.
4. Unique grid design (child type), screen use long, easy to change network, only 3-5 minutes, simple operation, easy to clean.
5. No mechanical action, easy maintenance, single or multi-layer use, contact with the material parts for the use of stainless steel (except for medical use)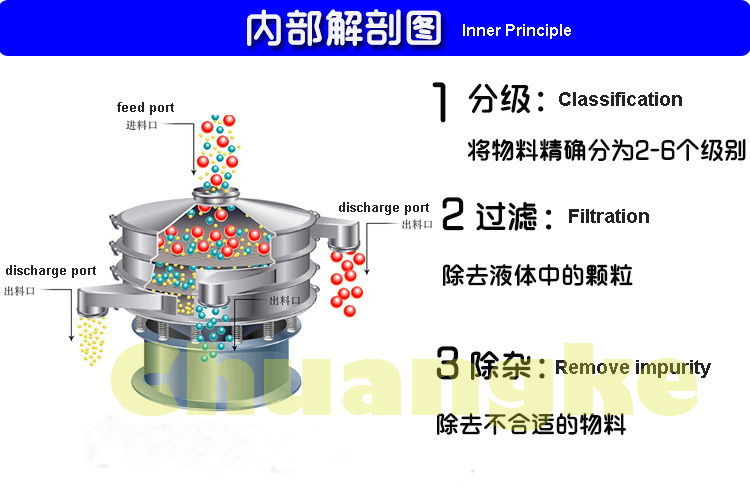 Applicable industry
Rotary vibrating screen
All kinds of powder industry any particles, powder, mucus within a certain range can be screened.
Industry: resin powder, paint, detergent, powder, paint, soda ash, lemon powder, rubber, plastic and so on.
Abrasive, ceramic industry: alumina, quartz sand, mud, spray soil particles.
Food industry: sugar, salt, alkali, monosodium glutamate, milk powder, soy milk, yeast, fruit juice, soy sauce, vinegar and so on.
Paper industry: coating paint, clay mud, black and white liquid, waste liquid, papermaking fluid, waste water recycling.
Metallurgical industry: titanium oxide, zinc oxide, electromagnetic materials, metal powder, electrode powder.
Pharmaceutical industry: Chinese medicine powder, liquid medicine, Western medicine powder, Western medicine liquid, Chinese and Western medicine particles.
Environmental protection: garbage, human and animal manure, waste oil, food waste water, waste water processing.
Model

Layer

Power(KW)

Mesh diameter(mm)

Dimension(mm)

RFT-400

1S

0.18 or 0.37

360

720x430x600

2S

720x430x690

720x430x780

3S

RFT-600

1S

0.37 or 0.55

560

600x600x740

2S

600x600x880

3S

600x600x1020

RFT-800

1S

0.55 or 0.75

760

800x800x840

2S

800x800x1000

3S

800x800x1160

RFT-1000

1S

0.75 or 1.1

930

970x970x950

2S

970x970x1110

3S

970x970x1270

RFT-1200

1S

1.1 or 1.75

1130

1170x1170x1090

2S

1170x1170x1250

3S

1170x1170x1410

RFT-1500

1S

1.5 or 2.2

1430

1470x1470x1110

2S

1470x1470x1270

3S

1470x1470x1430
Related Products